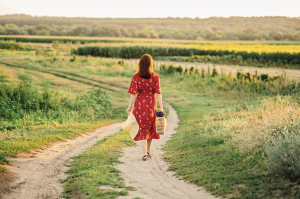 Every month we gather here in this virtual space to talk about the tools and practices we can use to support our mental health. This month is no different, and as we celebrate Earth Day and Spring, we turn our eyes to nature. Earth Day is all about environmental protection and giving back to the planet…but did you ever think about how the planet gives to us? When it comes to our mental health, the evidence is clear: nature has a significant positive impact.
The American Psychological Association reports that being in nature has a positive impact on cognition, attention, and happiness.  In a round up of evidence by the National Alliance on Mental Health, one article states "being in green environments boosts various aspects of thinking, including attention, memory and creativity, in people both with and without depression." And it doesn't stop there! Researchers in Washington found that spending time in nature led to "increases in happiness, subjective well-being, positive affect, positive social interactions, and a sense of meaning and purpose in life, as well as decreases in mental distress."
And one of the best parts of this research is that these benefits are very accessible with little to no cost! We're lucky to live in sunny Tampa Bay where we have beautiful weather for most of the year, so in the spirit of Earth Day, let's grow (see what we did there?) our mental health toolkits by adding some outdoor practices! If you're not sure where to start, here are our suggestions:
Volunteer for a local clean up effort:

Volunteering with a local organization

can be a great way to get outside, positively impact the environment, and grow your community of connections. A win for the environment

and

your mental health! 

Try meditating outside:

We're big fans of meditation and breathwork in any setting, but sometimes a change of scenery can do us a world of good. Try taking your practice to the park or into your yard. What new sounds do you hear? What new things do you see?

Take a walk:

If walking is accessible to you, try scheduling one "walking meeting" for work this week, or alternatively one walking phone call with a loved one. If possible, you could even make a commitment to meet in person and take a short walk together. The combination of connection, gentle movement, and the outdoors benefits our body and our mind.

Find an outdoor hobby that lights you up:

Of course, the best practices are the ones you will actually do. Take a moment to think about the things you love to do. Do you like to garden? Birdwatch? Swim? Maybe you love to cook and could organize a picnic with your loved ones! Maybe you can play tag with your kiddo or walk the dog! Find one small practice you're excited to do and commit to giving it a try this month.

Try breathwork: This exercise brings a sense of feeling refreshed. It's super potent when we use it outside, especially among trees or greenery.
Just remember, as you spend time outside be sure to stay hydrated and use SPF! We hope this month brings you many joyful outdoor adventures! And if you want to expand your toolkit further and need support finding resources that work for and with you to support your mental health, we would love to talk to you! Please reach out to us at 844-YOU-OKAY for our free, confidential support line for Tampa Bay. 
We'll see you on the trails! 
Your Team at Tampa Bay Thrives