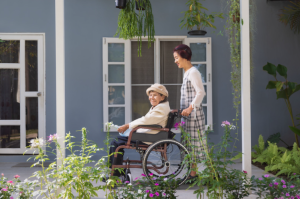 It's that time of the year again…November always has us leaning into gratitude and being extra aware of what we're thankful for. And what we're most thankful for here at Let's Talk Tampa Bay is YOU, dear reader. As we continue to move our mission forward and provide accessible mental health support and resources to our community of Tampa Bay, we have continued to be blown away by how you continue to make this mission your own. 
Every comment on social media, every return email, every time you volunteer, donate, or simply open this email, you are making a difference. Every conversation you have about your own mental health journey, and every resource you share helps shatter the stigma around mental healthcare and helps us move the needle forward towards a more supportive future for all. Thank you for being here. We are grateful and we never take it for granted. 
And while we're on the subject of gratitude, we want to send some love to a group of people who often don't receive the credit they deserve. November is National Family Caregivers Month, led by the Caregiver Action Network this month "is a time to recognize and honor family caregivers across the country. It offers an opportunity to raise awareness of caregiving issues, educate communities, and increase support for caregivers." Caregivers help the world go round, providing care for adults of all ages and children who may need additional support and help due to physical disability, illness, mental health challenges, or any number of other reasons. This work is often unpaid and can require a significant amount of time and resources. We all have caregivers in our lives who could use our gratitude, whether we're the subject of their care work or not. Here are three concrete ways to express your gratitude to caregivers in your life this month and beyond:
Do a random act of kindness:

It's not always possible for us to relieve caregivers of all of their caregiving duties, but that doesn't mean that we can't make their day a little easier. Ask a caregiver in your life what would be most helpful to them. Send a text when you're headed to the store to see if there's anything you can pick up, bring over a pre-made meal or delivery gift card, or mow their lawn. Give them the gift of a little bit of rest where you can.

Send snail mail:

While we love a good email, nothing beats a physical card or letter from a friend or loved one in your mailbox. Take some time to write out the reasons you appreciate a caregiver in your life. Be specific, noting the often unseen work that they do, or the special parts of themselves that they bring to this work. Include stickers or photos, use fun pens, and make this your own. Drop it in the mailbox and get ready to make their day.

Be an ear:

People who are in caregiving roles for their loved ones handle a lot on a day-to-day basis. They may struggle with burnout or overscheduling, and/or may have no one with whom they can share the joys and challenges of being a caregiver with. If you have a friend or loved one in a caregiving role, let them know that you want to be a safe place for them to vent, strategize, or do whatever they need. Having just one person as a steadfast supporter can make all of the difference. 
And remember, as we move into the holiday season, we may be navigating the challenges that come with this time of year around family, grief, and added stress. There is strength in asking for help when you need it, especially this time of year. We're right here to support our community this holiday season, just dial 844-YOU-OKAY to reach our free, confidential support line for Tampa Bay, and be paired with care resources that work for you. Let's do this.
We'll see you next month, 
Your Team at Tampa Bay Thrives