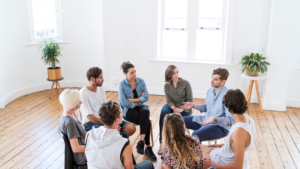 Hello Tampa Bay! We're glad to be back in your inbox as we head toward Fall after a whirlwind Summer. This month we want to discuss an often-overlooked part of the mental health landscape: addiction and recovery. A 2021 US Department of Health and Human Services study indicates that roughly 16.5% of the US population, aged 12 and over, met the clinical criteria for substance use disorder. Yet 94% of people with substance use disorder did not receive any treatment in 2021. We believe that these statistics need to shift, with more people having access to the care they need to thrive.
September is National Recovery Month, an initiative that began in the late 1980s to provide information about evidence-based addiction treatment and to celebrate those living their lives in recovery from drugs and/or alcohol. But what is recovery anyway? 
Recovery is an ongoing process of supporting oneself to live a life free from addictive substances. While we often see one-note portrayals of recovery in media, both addiction and recovery can look many different ways. Just as we are all unique individuals, everyone's experience of recovery can look different, depending on their lifestyle, the identities they hold, and their interests. 
But while everyone is distinct, whether you're struggling with addiction, or simply want to take a break from a substance to evaluate your relationship to it, there are some key areas that it is important to focus on:  
Seek community:

Head to a recovery meeting! There are many different types to choose between, from

AA

to

NA

to

SMART

meetings and meetings for

LGBTQIA+ people

and

Women of Color

. Try out a few that resonate with you to find which ones feel most welcoming and work within your schedule and lifestyle. Many modalities host free virtual meetings to allow you to find community from the comfort of your home. Being around others who are going through what you are going through can be a huge support to your recovery.

Support your body:

As your body recovers from drug or alcohol use, you may find yourself needing lots of body care. Get lots of rest, eat nourishing foods, and stay hydrated. Try out breathwork, a new movement practice, or add some stretch breaks to your routine. It all goes a long way toward helping your body heal. 

Support your mind:

Addiction was once a taboo topic, but many experts and those with lived experience of addiction are working hard to break the stigma. Simply type "recovery" into the podcast app, bookseller, or social media app of your choice to find content that resonates with you. Free apps like

Insight Timer

also have a variety of addiction-focused meditation options to support your recovery journey. 

Curate your environment:

When we're trying to stop using substances, our environment plays a huge role in navigating cravings successfully. Think about when you most want to use (Passing the liquor store on the way home from work? When you're on a tight deadline at work? With a particular person or group?) and create a game plan for navigating those triggers. Maybe you attend a recovery meeting, cue up a meditation, or go for a walk. Maybe you turn down the social event or take a different route home from work. And when you make it through a craving, be sure to celebrate that win! 
Recovery can feel like a heavy topic and involves a lot of work and practice. But it can also be joyful, inviting you back to parts of yourself you thought you lost. We want you to know that there is light on the other side and you don't have to do this alone. If you or a loved one is experiencing addiction and could use resources to support recovery, we would love to be a part of your recovery story. Just dial 844-YOU-OKAY to reach our free, confidential support line for Tampa Bay. You've got this, and we've got you.
We'll see you next month, 
Your Team at Tampa Bay Thrives