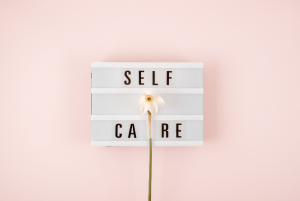 Hello Tampa Bay!
Did you know that July 24th is International Self-Care Day? In celebration, we want to talk about self-care as a tool to support our mental wellness.
First, let's start with the basics: What is self-care? There are a lot of definitions and ideas about self-care floating around out there, but to keep it simple, the National Institute of Mental Health defines self-care as "taking the time to do things that help you live well and improve both your physical health and mental health." 
Your self-care habits and practices can be tools in your mental health toolkit, just like going to therapy or taking prescribed medications. However, while the concept is simple enough, we know that life can get in the way of even the best intentions. It can be hard to make and maintain space for consistent self-care in your life and it can feel overwhelming to know where to even start. 
So while what you do is ultimately up to you, here are some tips on how to celebrate International Self-Care Day by adding self-care into your own life: 
First, get curious:

What kinds of self-care activities and practices do you like? What would feel best to your mind and your body? Have you always wanted to try running or breathwork? Reflect on these questions in a quiet moment or maybe in a journal. Having a list of possible activities and habits that you like can become a Self-Care Choose-Your-Own Adventure! The possibilities are endless!

Set aside time:

Often, time is the biggest blocker in taking care of ourselves. Try making self-care appointments with yourself by adding them to your calendar or planner. Start small, they can be just 5-15 minutes, but be sure to intentionally block that time and keep your appointments with yourself. 

Work within your means:

The best self-care practices are the ones you will actually do. Be honest about how much time, money, energy, and space you have to invest in your self-care practices. What is sustainable for you right now? Again, start small and seek quick wins over building an elaborate routine that may prove stressful to maintain.

It doesn't have to be serious:

While yoga, meditation, and baths may be what we think of first when we think of self-care, anything that feels joyful and restorative to you counts. Maybe dancing, coloring, or running through the sprinkler with your kids sounds more your speed. Maybe you're a fan of naps or simply want to focus on drinking more water. 
Self-care is not an indulgence, but a necessity in caring for ourselves and supporting our mental health within this hectic, modern world. Seeking support and resources may support you in that mission.
If you could use some help, Dial 844-YOU-OKAY to reach our free, confidential support line for our region. We can help you find local resources to support you at any stage of your journey. 
We'd love to hear what self-care practices have been working for you! Let us know on Instagram! Wishing you rest and joy on your self-care exploration! 
We'll see you next month!