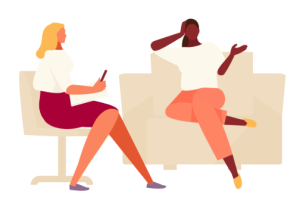 There is a lot of conventional wisdom and conversation around how to choose the people in our lives. From advice about what good friendship feels like to uncovering what qualities are important to us in a partner, a manager, or a mentor, we generally have a good idea of how to navigate these types of relationships. But what about our relationship with our care providers? That is a ground less traveled, and whether you're seeking a new medical doctor or a mental health provider, it can feel intimidating to search and impossible to choose. 
We want to start with a reminder: You get to choose your therapist. Just like every other big relationship in your life, only you can decide what is important to you when it comes to your mental health support. Only you can know what your boundaries are, and how (or if!) you are comfortable moving forward with a provider. And as is true in other relationships, you may not find a good fit on the first try.
We want to put you back in the driver's seat when it comes to seeking support on your mental health journey. Finding the right therapist or care provider for you can provide you with a safe environment in which to build trust and start working towards more clarity, better coping skills, and an understanding of how to support yourself.
To help you empower yourself to get started, consider these simple steps:
Consider logistics:

Before meeting your potential therapist, consider if working with this provider fits within the reality of your life. Do they offer remote sessions? Is their office close to your home or office? Do they take your insurance or offer flexible payment options? What else is important or crucial to you?

Treat it like a job interview:

Therapists are professionals with expertise that may feel intimidating, so it may be surprising that

you

get to interview

them

! Inquire about an interview…many therapists are willing to do a 15-minute trial conversation free of charge to see if there's a fit.
Come prepared:

Make a

list of questions

that you want to ask your potential therapist. These could be around payment, identities you hold, the methodologies they specialize in, political alignment, views on religion, and more. Being prepared with your list empowers you to get the answers you need.
Create a check-in cadence:

Agree with your new provider on how often you should check in about how your work together is going. Once a month? Every six months? This gives you both the space to re-evaluate the relationship and make any shifts you need to. 
And though no one but you can decide what you want out of your therapeutic relationship, you don't have to do this alone. And we are here to help. If you're not sure how to get started or want help finding therapy options that work with your insurance and life, Dial 844-YOU-OKAY? to reach our free, confidential support line. Finding a therapist or care provider can be a long process, but it can also be a very empowering one as you seek support for your mental health journey. 
~ Carrie Zeisse
President & CEO
Tampa Bay Thrives