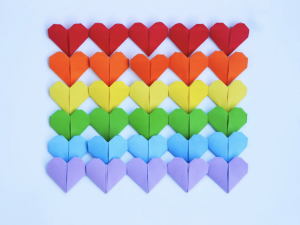 June is Pride Month and we hope that those struggling with their identity or living in unsupportive environments find these resources helpful to living a life of well-being and resilience. We also pulled together ways supporters can help.
As a proud Mental Health America affiliate, we are excited to celebrate our queer communities by sharing information about two upcoming webinars:
LGBTQ+ voices will share how self-acceptance, self-compassion, queer joy, and pride in their identities have impacted their mental health. This webinar is on Tuesday June 13 at 1 p.m. Register for the Pride in Myself webinar here.
Feeling affirmed, supported, and safe is essential for our mental health. When discussing affirming environments, we often talk about health care settings, but affirming spaces go far beyond a doctor's office. For example, schools, homes, campuses, workplaces, businesses, and community spaces all have the opportunity to ensure that they are affirming for LGBTQ+ folks. This webinar will discuss what makes an environment affirming and how to create those spaces. This webinar is Tuesday, June 27, 2023 at 1 p.m. Register for Where I Feel Safe: What Makes an Environment Affirming webinar here.
Here are 10 ways to be an ally and a friend.
LGBTQ youth want role models. Queer elders have a lot of advice. Young people in the LGBTQ community long for older role models. The Washington Post found several, and they all have stories to tell.
Here are Quick Tips for Supporting Your LGBTQ Kids–and YOURSELF–During the Coming-Out Process.
If you feel you need to talk to someone, call our support line at 844-YOU-OKAY. A trained counselor is waiting for your call. The call is free and confidential.