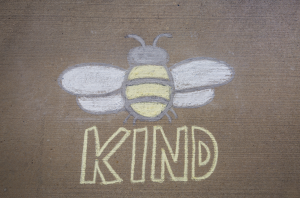 Welcome to our first newsletter of 2023! If you've just found us, welcome! If you've been right here with us, welcome back! We are blown away by the ways in which this community is growing and bringing conversations about mental health out of the shadows and into the light. Thank you for being here. 
As you've probably noticed at this time of year, resolutions are everywhere. With all of the advertising and the social media posts, it can be easy to look for all of the ways that we could be (or should be) improving ourselves. We may look around and see all of the things we're not doing and suddenly all of that New Year hope and excitement is replaced with self-judgment.
When navigating our mental health journey, moments of judgment are normal and common, but that doesn't mean that we want to give those feelings a permanent seat at the table! Moving towards healing means shifting our old patterns and narratives, and so in 2023, we're choosing to focus on practicing intentional kindness. This might sound trite, but hear us out!
Experts everywhere from the American Psychological Association to the Mayo Clinic have acknowledged the positive effects of kindness, to ourselves and others, on our mental and physical health. Practicing kindness can be a simple, accessible tool in our mental health toolkit. A way to make an unkind time of year a little more kind. Want to join us in cultivating more kindness in your day? Here are a few places to start:
With loved ones:

Being kind to loved ones can sometimes be harder than being kind to strangers. Afterall, we have a whole lot more history with the people in our lives on a regular basis. A simple and impactful way to bring kindness to these relationships is to write a letter to a loved one. Tell them how they impacted you this year, or tell them why you're proud of them.

With strangers:

Challenge yourself to do one random act of kindness per day. This could be as small as holding a door, letting someone over in traffic, giving someone a compliment, or giving a little money to a cause you care about. These little gestures can have a big impact on both the world around you, and your own outlook on the day. Imagine that little ripple of kindness spreading out into the world and see if you can keep from smiling.

With ourselves:

We're often our own harshest critic, and sometimes the most difficult person to be kind to is ourselves. Speaking to ourselves with kindness is one of the most accessible and healing (though difficult!) things we can do to support our mental health. Start small by writing a favorite affirmation on a post-it note and placing it somewhere that you'll see everyday. (Need affirmation inspiration? Our current favorite is "I am kind to myself.")

Online:

The internet can be a place to find resources and community that you may not be able to find in person…after all, it's how we're reaching you right now! But being online can also make us feel negative about ourselves and others, and self-kindness is being intentional about where you spend your time. The next time you're using social media, or reading content on the Internet, pause and take a deep breath. Notice how you're feeling in your body. If a particular app or site makes you feel anxious or self conscious, consider what boundaries you can set for yourself around that space.
Are you planning to try out these kindness experiments in your own life? Do you have an idea we missed? We would love to hear about it– just reply to this email. And if you could use support in finding mental health resources that work for you please reach out to us at 844-YOU-OKAY for our free, confidential support line for Hillsborough County. We're honored to support you.
We'll see you next time,
Your Team at Tampa Bay Thrives